TURNS HEADS. WITH 575 HORSEPOWER.
The M TwinPower Turbo 8-cylinder petrol engine in the BMW X6 M.
Extreme driving pleasure requires first-class components. The basis is massive power, delivered in just the right doses. Then there's elasticity and stamina. First sprint, then maintain the speed. Decelerate briefly, then sprint again. Again and again, right up to the limit. The powerful powerplant in the BMW X6 M was built to achieve exactly this. With M TwinPower Turbo technology from BMW EfficientDynamics, consisting of Valvetronic, High Precision Injection and innovative turbocharging.
Finn ut mer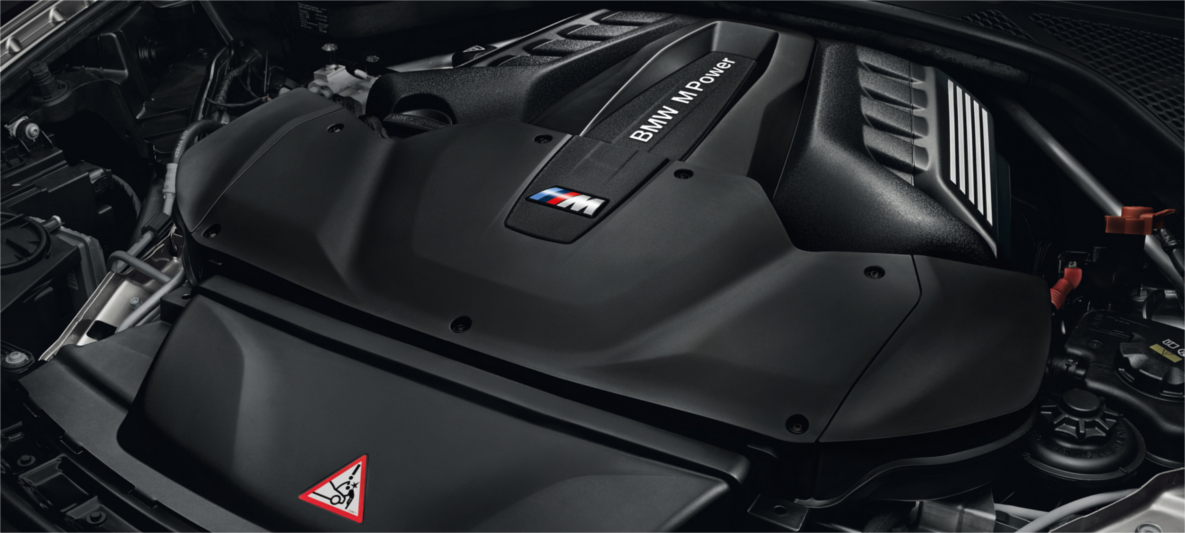 BMW M TWIN POWER TURBO PETROL ENGINES
Bi-Turbo direct fuel injection and typical M fine-tuning ensure that the engine responds directly to the slightest nudge of the accelerator with enthusiastic boost and excellent torque. With its motor sport-suitable cooling concept as well as an additional oil sump cover and oil drain pump, the M engine is ready to take on any challenges. Numerous innovations like sleeveless construction or a lighter, cast crankshaft continue the intelligent lightweight concept, improve dynamics and acceleration, lower consumption and enable an optimal weight distribution of almost 50:50. The reward: unprecedentedly agile driving that's impressively underscored by the unmistakeable sound of the M engine.
BMW M TwinPower Turbo

| | |
| --- | --- |
| Sylindre/ventiler | 8/4 |
| Slagvolum i cm³ | 4395 |
| Slaglengde/boring i mm | 88,3/89,0 |
| Effekt i kW (hk) ved o/min | 423 (575) / 6000-6500 |
| Maks. dreiemoment i Nm ved o/min | 750 / 2200-5000 |
| Kompresjon:1 | 10,0 |
Mer informasjon.
Verdier uten parentes gjelder basismodellen med standard girkasse, mens verdier i parentes gjelder modellen med girkasse som leveres som ekstrautstyr.

Brennstoff-forbruket og CO2-utslippstallene ble beregnet i henhold til EU-forordning (EF) 715/2007 som var gjeldende på tidspunktet for typegodkjenningen. Tallene refererer til et kjøretøy med grunnleggende konfigurasjon, og den beregnede forbruksinformasjonen tar hensyn til ulik størrelse på valgte hjul, dekk og ekstrautstyr. Verdiene for kjøretøyet er allerede basert på den nye WLTP-reguleringen.

* Verdier basert på WLTP-testsyklusen.

Fra 1. september 2018 ble NEDC kjøresyklusen erstattet med WLTP. Kjøretøy testet med WLTP kjøresyklus gir mer realistiske verdier med tanke på drivstoffforbruk, energiforbruk og utslipp, hvor NEDC ville gitt lavere verdier. I løpet av 2019 er NEDC-verdiene juridisk bindende. WLTP, og ekvivalente NEDC, utslipps- og forbruksverdier finnes i de veiledende prislistene på www.bmw.no/prislister. Du finner mer informasjon om WLTP på www.bmw.no/wltp.