| | |
| --- | --- |
| Max. output in kW (hp) at 1/min (BMW X6 M1) | |
| Max. torque in Nm at 1/min (BMW X6 M1) | |
| Acceleration 0–100 km/h in s (BMW X6 M1) | |
| CO2 emissions in g/km (BMW X6 M1) | |
BEST LAP TIME. EVEN IF THERE IS NO LAP.
Racing characteristics.
With its irresistible dynamics, impressive agility and precise handling, the BMW X6 M sets new standards in its segment. Launch Control lets you get off to a perfect start. And with Dynamic Drive, Dynamic Performance Control and adaptive suspension, you can adjust the vehicle set-up to suit the respective driving conditions.

Finn ut mer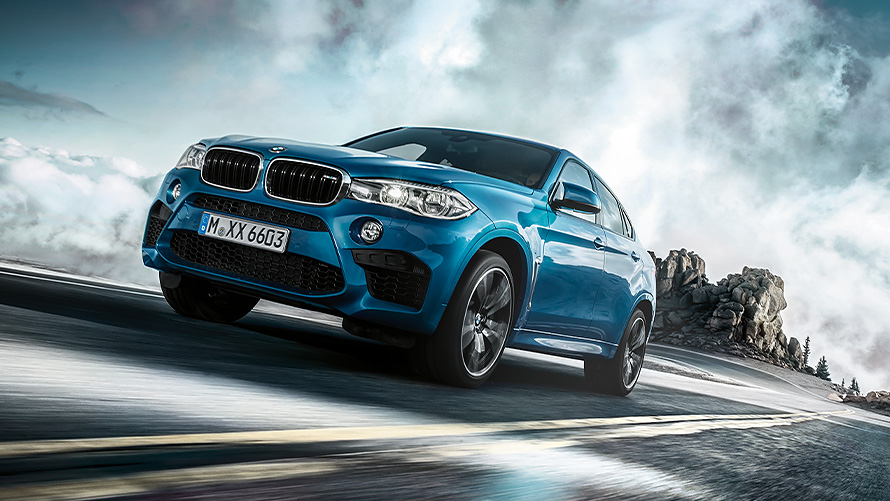 Driving Dynamics & Efficiency.
The BMW X6 M offers concentrated power that the M-specific xDrive transfers to the street effectively. Outstanding traction is guaranteed. Rapid gearshifts, either manually or automatically, are possible thanks to the standard-feature 8-speed M Steptronic transmission. The M compound brakes achieve outstanding, motorsport-like deceleration values. And BMW EfficientDynamics technologies ensure that the awesome performance is combined with remarkable efficiency.
Finn ut mer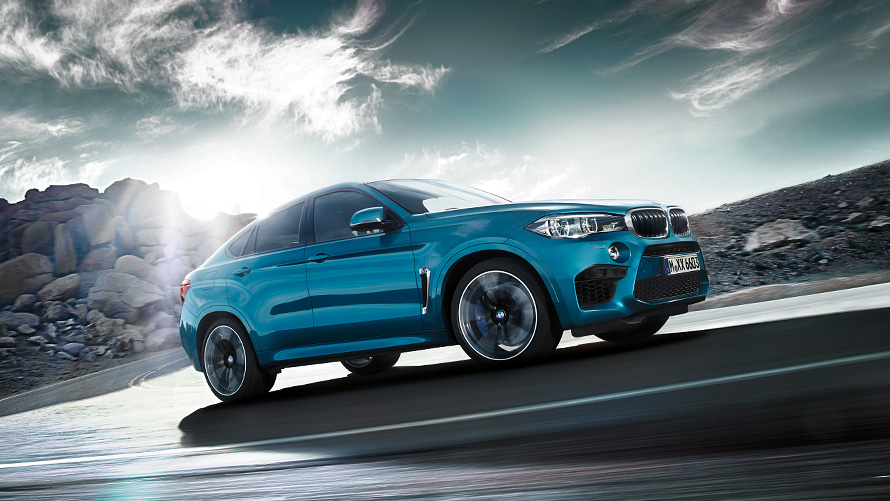 Design.
A powerhouse in a Sport Activity Coupé's elegant clothing. Built for top performance, and with a majestic character. Equipped to master any number of different challenges. Always on the look out for tight bends and new routes off the beaten track. A unique combination: comfortable the moment you get in – and incredibly powerful the moment you touch the accelerator pedal.
Finn ut mer
423 KW.
Two high-rev TwinScroll turbochargers. Tested on racetracks and with a cooling system with four circuits and ten radiators to keep thermal stress under control.
A cross-bank exhaust manifold for perfect exhaust gas flow, optimum power development and lightning-quick responsiveness. This powerplant is simply awesome. With its massive torque of up to 750 Nm, the 4.4 litre, 575 hp M TwinPower Turbo 8-cylinder petrol engine powers the BMW X6 M forward with the minimum of effort. And accelerates the vehicle from 0 to 100 km/h in just 4.2 seconds. Despite this top performance, fuel consumption and CO2 emissions remain moderate: Thanks to a wide range of BMW EfficientDynamics technologies, the combined values are 11.1 l/100 km and 258 g/km respectively.
THE BMW X6 M AT A GLANCE.
Drivstofforbruk og CO₂-utslipp.
Verdier uten parentes gjelder basismodellen med standard girkasse, mens verdier i parentes gjelder modellen med girkasse som leveres som ekstrautstyr.

Brennstoff-forbruket og CO2-utslippstallene ble beregnet i henhold til EU-forordning (EF) 715/2007 som var gjeldende på tidspunktet for typegodkjenningen. Tallene refererer til et kjøretøy med grunnleggende konfigurasjon, og den beregnede forbruksinformasjonen tar hensyn til ulik størrelse på valgte hjul, dekk og ekstrautstyr. Verdiene for kjøretøyet er allerede basert på den nye WLTP-reguleringen.

* Verdier basert på WLTP-testsyklusen.

Fra 1. september 2018 ble NEDC kjøresyklusen erstattet med WLTP. Kjøretøy testet med WLTP kjøresyklus gir mer realistiske verdier med tanke på drivstoffforbruk, energiforbruk og utslipp, hvor NEDC ville gitt lavere verdier. I løpet av 2019 er NEDC-verdiene juridisk bindende. WLTP, og ekvivalente NEDC, utslipps- og forbruksverdier finnes i de veiledende prislistene på www.bmw.no/prislister. Du finner mer informasjon om WLTP på www.bmw.no/wltp.