TURNS HEADS. WITH 575 HORSEPOWER.
The M TwinPower Turbo 8-cylinder petrol engine in the BMW X5 M.
Extreme driving pleasure requires first-class components. The basis is massive power, delivered in just the right doses. Then there's elasticity and stamina. First sprint, then maintain the speed. Decelerate briefly, then sprint again. Again and again, right up to the limit. The powerful powerplant in the BMW X5 M was built to achieve exactly this. With M TwinPower Turbo technology from BMW EfficientDynamics, consisting of Valvetronic, High Precision Injection and innovative turbocharging.
Finn ut mer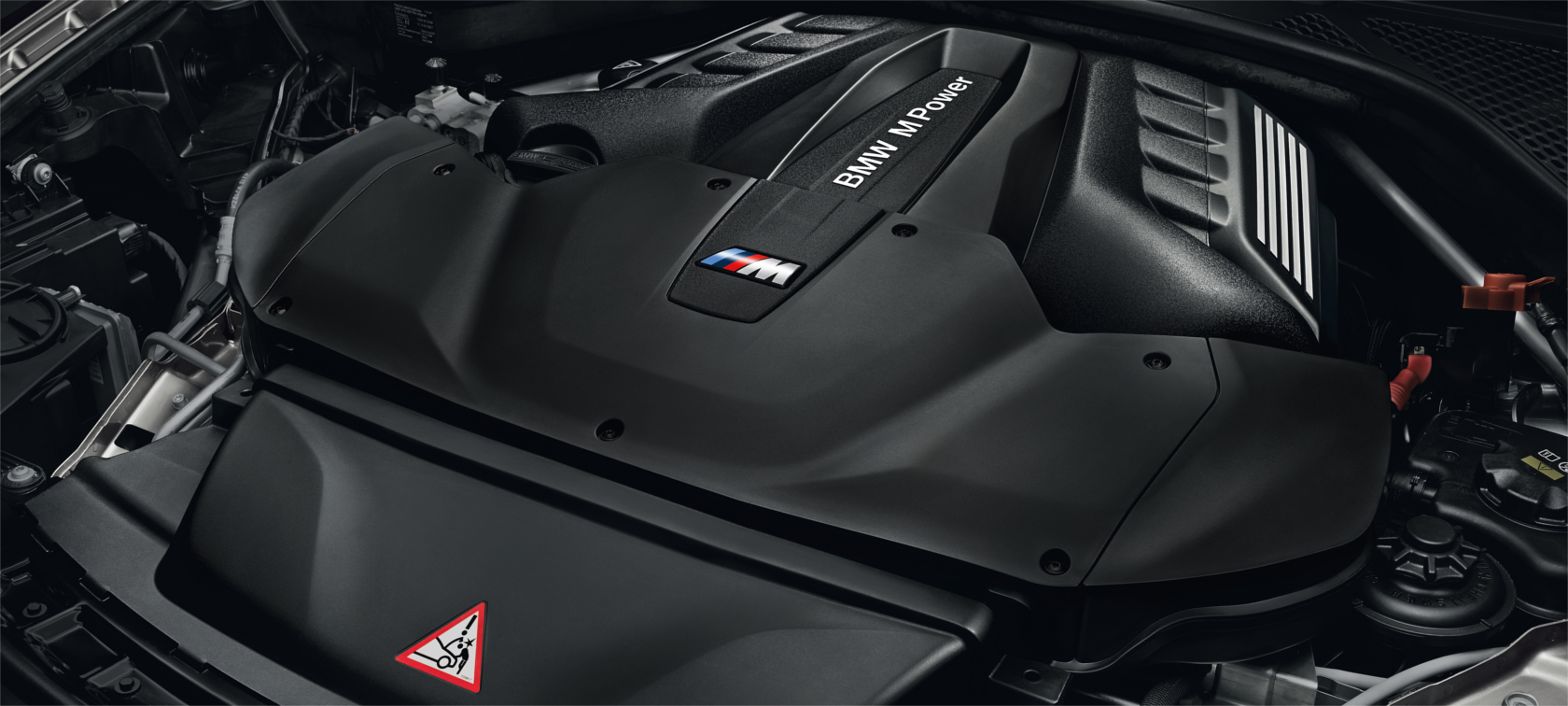 BMW TWINPOWER TURBO PETROL ENGINES.
The latest generation BMW TwinPower Turbo petrol engines feature remarkably agile power delivery and excellent responsiveness, even at low engine speeds. At the same time they are more efficient, with fewer emissions and better performance than their predecessors. These innovative engines combine the latest fuel injection technology and fully variable valve control including Double-VANOS with state-of-the-art turbocharger technology and represents a milestone in the BMW EfficientDynamics development strategy. The result is a particularly efficient drive train, which emphasises the renowned BMW engine prowess. The BMW TwinPower Turbo inline 6-cylinder petrol engine has been honoured multiple times with the Engine of the Year Award, bolstering its worldwide reputation for dynamic power delivery, extremely smooth running characteristics and impressive efficiency. The engines from the BMW EfficientDynamics range feature a technology concept that has been proven highly successful and is implemented in nearly all petrol engines.

Mer informasjon.
Verdier uten parentes gjelder basismodellen med standard girkasse, mens verdier i parentes gjelder modellen med girkasse som leveres som ekstrautstyr.

Brennstoff-forbruket og CO2-utslippstallene ble beregnet i henhold til EU-forordning (EF) 715/2007 som var gjeldende på tidspunktet for typegodkjenningen. Tallene refererer til et kjøretøy med grunnleggende konfigurasjon, og den beregnede forbruksinformasjonen tar hensyn til ulik størrelse på valgte hjul, dekk og ekstrautstyr.

* Verdier basert på WLTP-testsyklusen.

Fra 1. januar 2020 ble NEDC kjøresyklusen erstattet med WLTP. Kjøretøy testet med WLTP kjøresyklus gir mer realistiske verdier med tanke på drivstoffforbruk, energiforbruk og utslipp, hvor NEDC ville gitt lavere verdier. WLTP, utslipps- og forbruksverdier finnes i de veiledende prislistene på www.bmw.no/prislister. Du finner mer informasjon om WLTP på www.bmw.no/wltp.