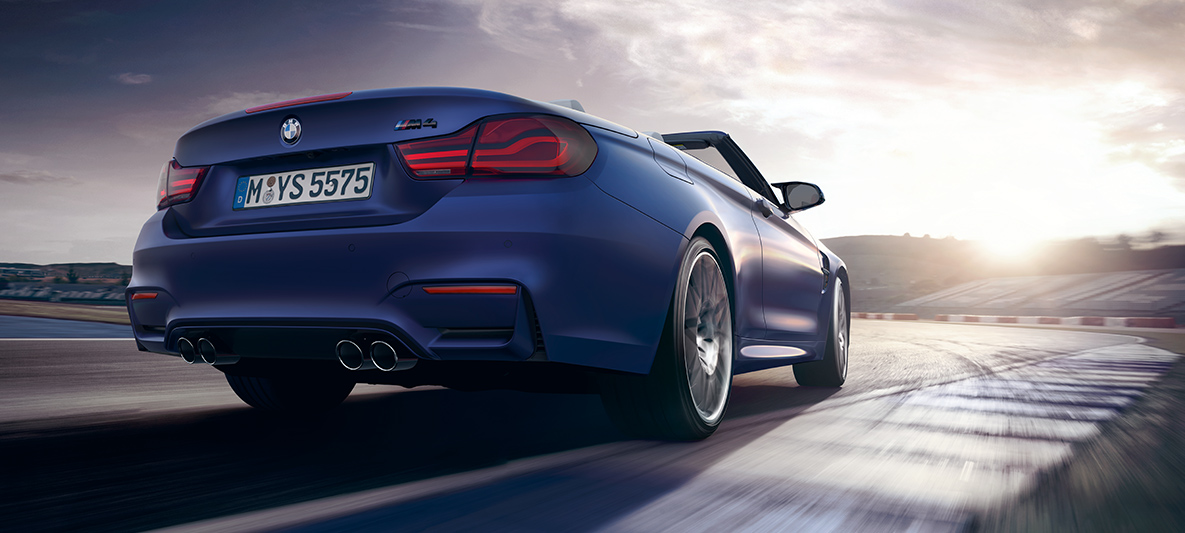 NO LIMITS ABOVE.
Drivers of the BMW M4 Convertible sprinting towards the sun will experience adrenaline-charged moments of a very intense nature. This is all thanks to the 431 hp M engine, which draws its power in carefully measured doses. And thanks to numerous technologies derived from motorsport, such as the Active M Differential and M Servotronic, the top athlete always reacts with maximum precision and technical perfection, pushing them Right up to the limits. And your pulse as well.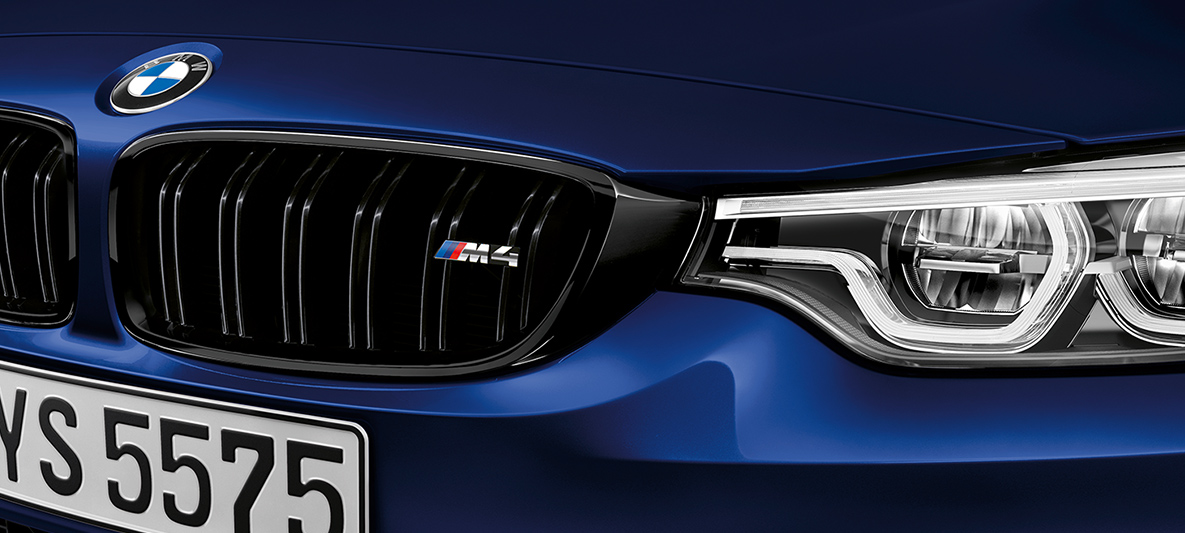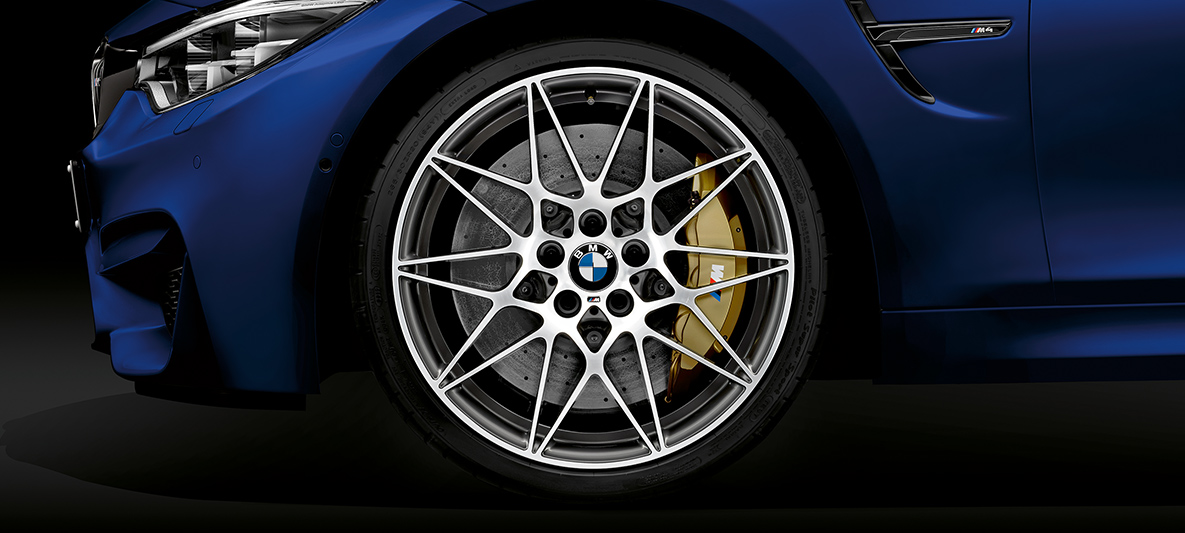 M COMPETITION PACKAGE.
An unadulterated racing feel: The M Competition package from BMW M4 Convertible offers even better performance thanks to an enhanced engine output, a specially tuned Adaptive M suspension, new calibration of the Dynamic Stability Control (DSC), the Active M differential and 20" M light alloy wheels with mixed tyres.

Driving dynamics highlights in the M Competition package

The output of the M TwinPower Turbo 6-cylinder petrol engine has been increased to 331 kW (450 hp). The M sports exhaust system generates a particularly dynamic engine sound that is destined to thrill. On the racetrack and in everyday use, the specially tuned Adaptive M suspension ensures that every steering command is executed with maximum precision.


Exterior highlights in the M Competition package

On the exterior, the M Competition package makes a great impression with exclusive, forged and gloss-lathed 20" M light alloy wheels Star-spoke style 666 M with mixed tyres. The athletic character is emphasised by the BMW Individual high-gloss Shadow Line with extended features, which runs in Black high-gloss from the front kidney grille over the gills to the model designation, ending at the black chrome-plated tailpipes.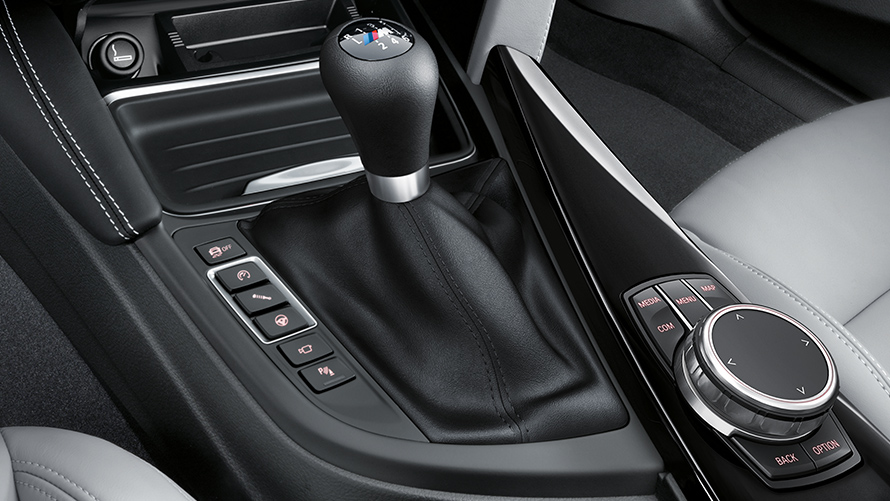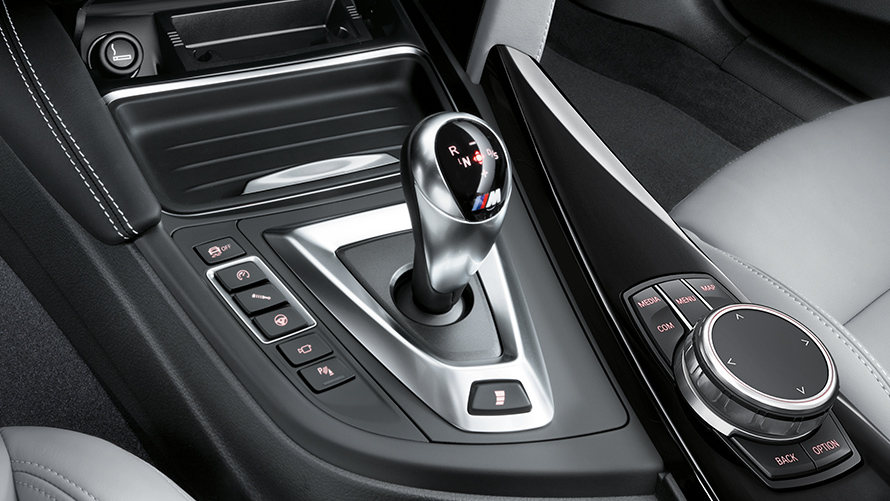 M 6-speed manual transmission

With a 12 kg reduction in weight compared to traditional models and its more compact shape, the M 6-speed manual transmission in the BMW M4 Convertible exemplifies intelligent lightweight construction. Inside the transmission, the new carbon fibre friction lining in the baulk rings provides more comfortable gear shifts, and a dry sump lubrication system ensures a more efficient supply of oil.

7-speed M double-clutch transmission

Shift gears without interruption in tractive force, without using the clutch and without slowing down: the 7-speed M double-clutch transmission with Drivelogic makes this possible. Gears can be changed automatically or manually using the gearshift paddles on the steering wheel or the gear lever. Launch Control guarantees maximum acceleration from a standing start.
ACTIVE M DIFFERENTIAL.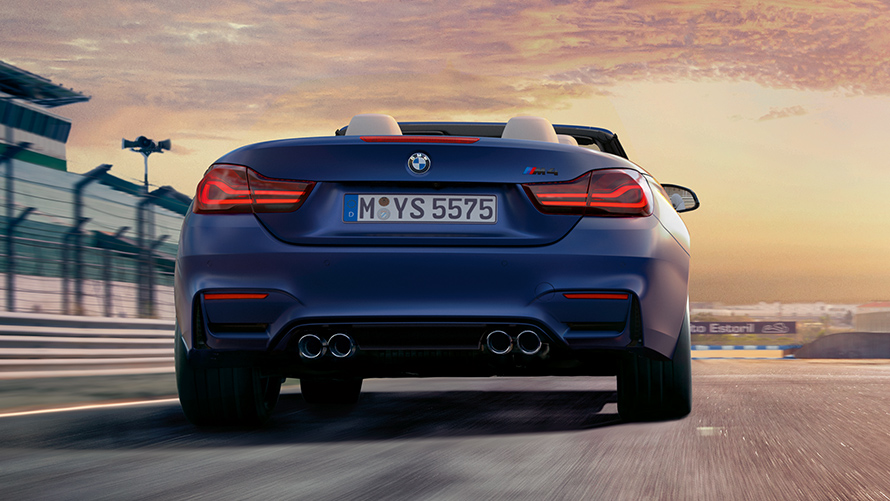 The Active M differential optimises traction and driving stability when changing lanes or accelerating out of a bend, when taking bends at high speeds or on different road surfaces. Traction is optimised with the help of an electronically operated device that reduces the difference in revolution speed between the rear wheels.

ADAPTIVE M SUSPENSION.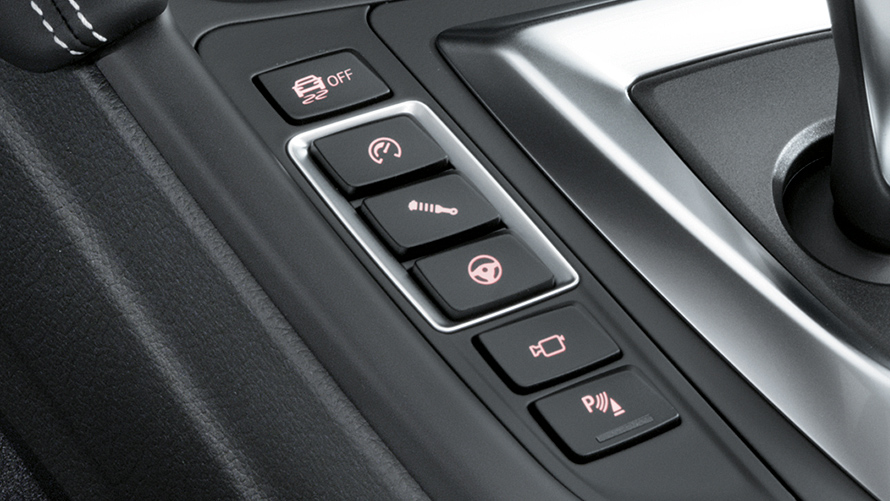 By electronically regulating the shock absorbers, Adaptive M suspension automatically ensures the vehicle is perfectly tuned to suit the driving conditions. The suspension settings can be modified for high comfort or sporty dynamics via the COMFORT, SPORT and SPORT+ modes on the Driving Experience Control.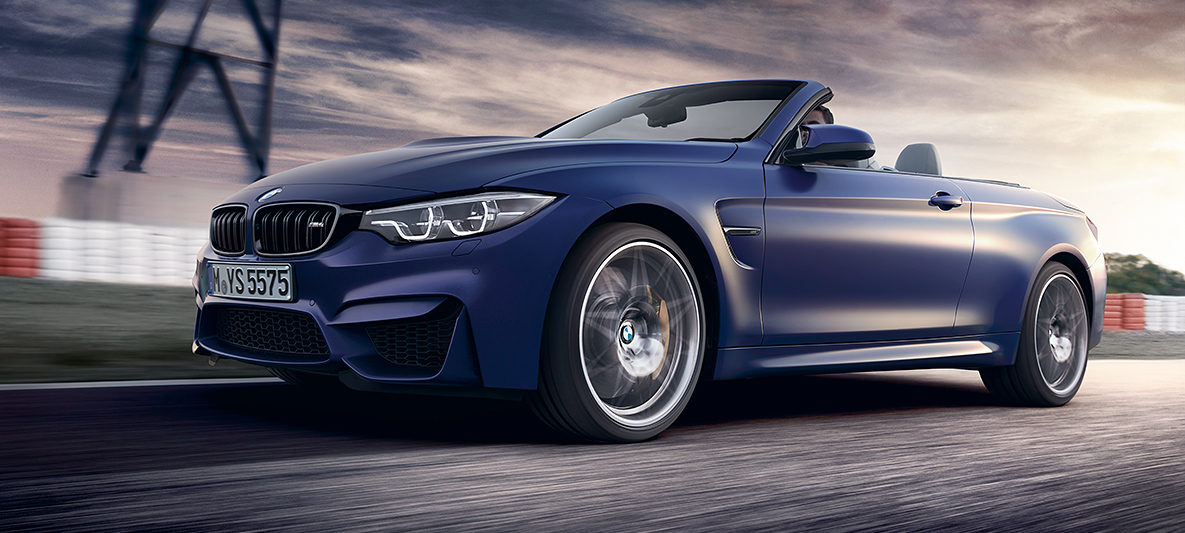 Launch Control

Launch Control allows maximum acceleration from a standing start. It adjusts the engine to its ideal starting speed, and the M dualclutch transmission constantly sets the gearshift points so that when shifting up, the next optimal engine speed is available.


M Driver's Package

The M Driver's Package increases the top speed to 280 km/h. The M Driver's Package can be ordered when purchasing a new vehicle or can be added on at a later date. All other technical data remain unchanged once installed. This also includes a voucher for BMW M Intensive Training as part of BMW Driving Experience.


M Drive

M Drive allows for the individual configuration of the DSC mode, the appearance of a Head-Up Display and personal driver profiles – from comfortable gliding all the way up to a sporty and highly responsive set-up – by adjusting the engine, damper and steering characteristics, as well as the transmission. Activation is as simple as touching one of the two M buttons integrated into the multifunction steering wheel.


M Servotronic

M Servotronic adjusts the power steering to suit the current speed and ensures a direct and precise steering response even at high speeds. It also ensures supreme comfort by minimising the physical effort required for steering, as well as maximising agility when parking, manoeuvring or navigating narrow or twisting roads.


M dynamic mode

M dynamic mode, a sub-function of Dynamic Stability Control (DSC), allows a certain degree of wheel slip, thereby noticeably improving driving dynamics. While DSC works against understeer and oversteer, the M dynamic mode enables the full exploitation of the car's maximum longitudinal and lateral dynamic potential. However, access to the support offered by DSC is retained.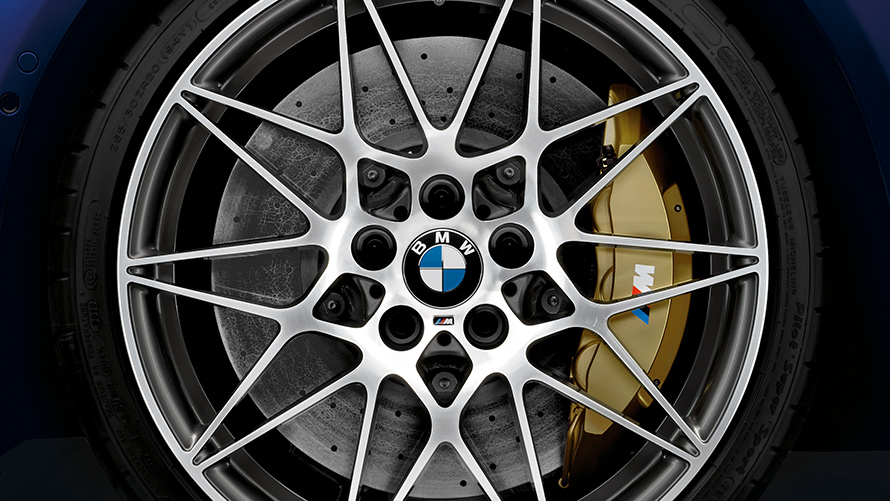 M compound brake

Thanks to the use of various materials, M compound brakes achieve outstanding deceleration values and are extremely stable and highly durable. They also weigh less, which has a positive impact on agility, dynamics and acceleration. The Blue metallic brake callipers with the M logo are the hallmark of these high-performance M specific brakes.

M Carbon ceramic brake

The M Carbon ceramic brake delivers braking power more directly. It is non-corrosive, very resistant to abrasion, tolerates more heat and contributes to a lower vehicle weight, which has a positive impact on agility, dynamics and acceleration. Matt Gold-coloured brake callipers with the M logo make this special technical equipment visible from outside the car.

Dependent on conditions and usage, features specific to the materials used can lead to operational noises particularly in wet conditions just before the vehicle comes to a halt. The impact of moisture and road salt can cause the braking action to be equivalent to a conventional brake system. This can for a short time be experienced as a reduction in braking action and can be balanced out by greater pressure on the pedal where necessary.

​
Verdier uten parentes gjelder basismodellen med standard girkasse, mens verdier i parentes gjelder modellen med girkasse som leveres som ekstrautstyr.

Brennstoff-forbruket og CO2-utslippstallene ble beregnet i henhold til EU-forordning (EF) 715/2007 som var gjeldende på tidspunktet for typegodkjenningen. Tallene refererer til et kjøretøy med grunnleggende konfigurasjon, og den beregnede forbruksinformasjonen tar hensyn til ulik størrelse på valgte hjul, dekk og ekstrautstyr.

* Verdier basert på WLTP-testsyklusen.

Fra 1. januar 2020 ble NEDC kjøresyklusen erstattet med WLTP. Kjøretøy testet med WLTP kjøresyklus gir mer realistiske verdier med tanke på drivstoffforbruk, energiforbruk og utslipp, hvor NEDC ville gitt lavere verdier. WLTP, utslipps- og forbruksverdier finnes i de veiledende prislistene på www.bmw.no/prislister. Du finner mer informasjon om WLTP på www.bmw.no/wltp.