Excitingly and elegantly shaped. More powerful than ever. The new generation of the BMW M5 is a statement of supreme engineering skill and innovative driving intelligence. For hitherto unimagined dimensions of driving dynamics up to the limits. Full of state-of-the-art technologies that make the everyday business routine safer and more comfortable. The innovative all-wheel drive system M xDrive of the powerful all-new BMW M5 with its up to 625 hp* (460 kW)* engine turns the driver into the self-assured pilot of a high-performance sports saloon with unbelievable power, precision and agility – pure M driving pleasure on a new level.


* These values refer to the BMW M5 Competition.

Finn ut mer
TOP PERFORMANCE TO THE POWER OF 5.
01

Output 460 kW* (625 hp)*

02

Maximum torque 750 Nm

03

From 0 to 100 km/h in 3.3 s*

04

Top speed 305 km/h with M Driver's Package

05

Outstanding driving dynamics thanks to M xDrive
HIGH PERFORMANCE BUSINESS SUIT.
The design of the all-new BMW M5 with M xDrive.
ACCELERATES FROM EVERY PERSPECTIVE.
The new BMW M5 is the uncompromising combination of elegant business saloon and systematically power-oriented supreme performance: large air inlets in the athletic front supply the M V8 high-performance engine with cooling air. The look created by the lines of the distinctive aluminium bonnet with two M specific swage lines is repeated in the contours of the roof made of very lightweight and tough carbon-fibre reinforced plastic (CFRP). The discreet M rear spoiler supports the sporty and powerful appearance and is an important element of the overall aerodynamic concept. Form follows performance – consistently in every detail.
Finn ut mer
FIRST-CLASS COCKPIT INSTEAD OF BUSINESS CLASS.
The design of the all-new BMW M5 with M xDrive.
"The all-new BMW M5 with M xDrive drives like a rear-wheel powered car – with enhanced traction."

Frank van Meel, BMW M GmbH, Chairman of the Management Board.
BREATHTAKINGLY MASTERFUL.
How do you translate the tremendous power of the all-new BMW M5 directly and precisely into maximum driving dynamics? With innovative technologies, inspired by motor racing.

Finn ut mer
10.8 SEC.*
This is how breathtakingly fast the BMW M5 Competition sprints from 0 to 200 km/h. In combination with the outstanding power of the M TwinPower Turbo 8-cylinder engine, the superior traction of the all-wheel drive M xDrive produces acceleration values that had hitherto been reserved for super sports cars. For the sake of completeness, perhaps we should mention that the all-new BMW M5 Competition accelerates from 0 to 100 km/h in 3.3 seconds.
* These values refer to the BMW M5 Competition.

WEIGHT-REDUCED. SOUND-OPTIMISED.
WEIGHT-REDUCED. SOUND-OPTIMISED.
M sports exhaust system.
The M sports exhaust system delivers a dynamic sound that can be modified via the integrated exhaust valve mechanism. The SPORT and SPORT+ programmes, which can be selected via the Driving dynamics buttons, are accentuated by an even more intense engine sound, while the comfort-oriented programme prioritises more discreet engine acoustics. In addition, the noise level can be lowered via the new sound control button.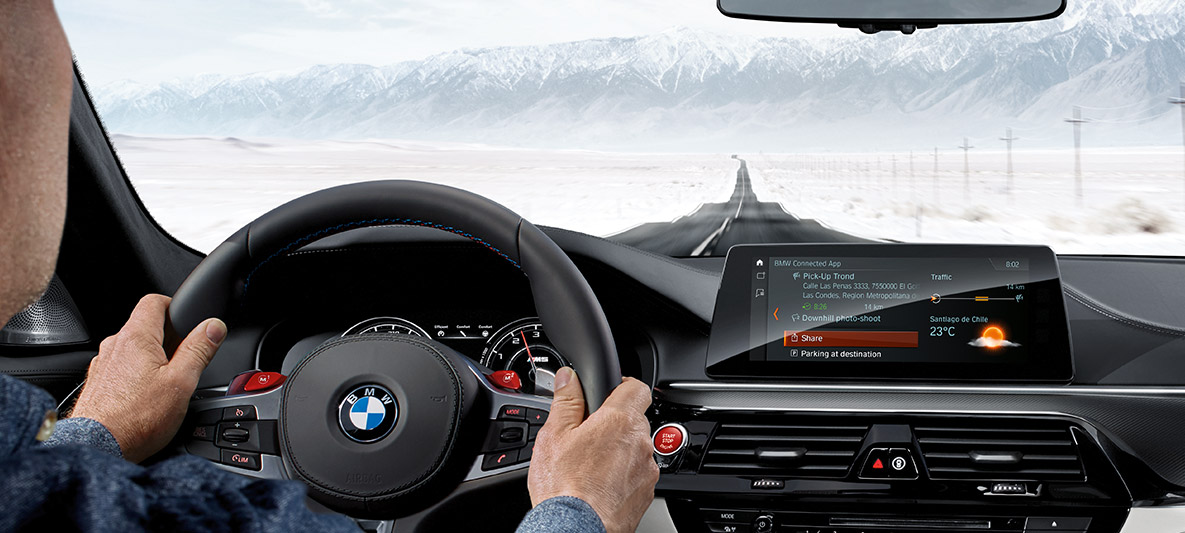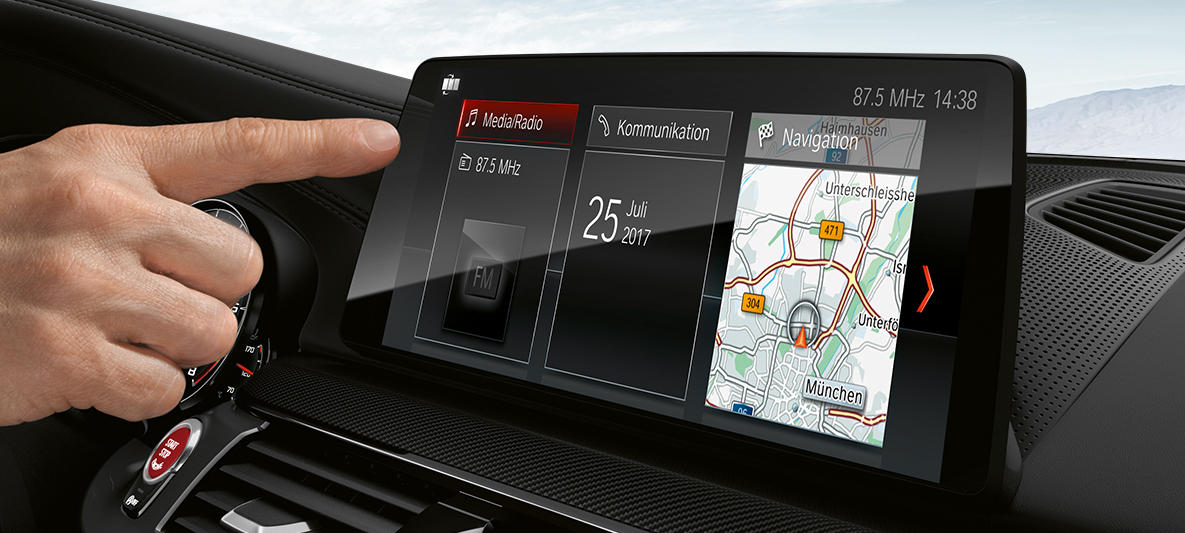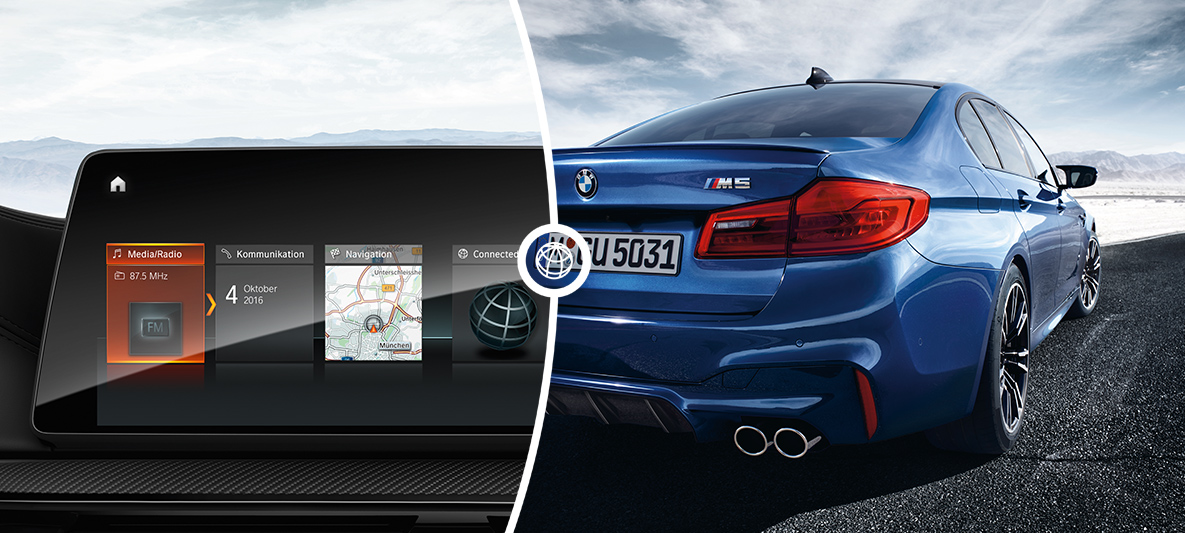 CONNECTIVITY AND DRIVER ASSISTANCE.
The BMW M5 sets new standards in terms of connectivity and driver assistance. Regardless of whether you wish to organise appointments, call up e-mail or set new personal bests on the race track. The innovative operating concept, the multifunctional instrument cluster and the Head-Up Display impress with their supremely intuitive control, digital services and completely new M specific graphics. Enabling you to record all the information relevant to driving in fractions of a second: from the shift, navigation and speed displays via the all-wheel drive mode to the display for your personally selected setup. Numerous intelligent assistance systems are at your side as a co-pilot whenever you wish.

Verdier uten parentes gjelder basismodellen med standard girkasse, mens verdier i parentes gjelder modellen med girkasse som leveres som ekstrautstyr.

Brennstoff-forbruket og CO2-utslippstallene ble beregnet i henhold til EU-forordning (EF) 715/2007 som var gjeldende på tidspunktet for typegodkjenningen. Tallene refererer til et kjøretøy med grunnleggende konfigurasjon, og den beregnede forbruksinformasjonen tar hensyn til ulik størrelse på valgte hjul, dekk og ekstrautstyr. Verdiene for kjøretøyet er allerede basert på den nye WLTP-reguleringen.

* Verdier basert på WLTP-testsyklusen.

Fra 1. september 2018 ble NEDC kjøresyklusen erstattet med WLTP. Kjøretøy testet med WLTP kjøresyklus gir mer realistiske verdier med tanke på drivstoffforbruk, energiforbruk og utslipp, hvor NEDC ville gitt lavere verdier. I løpet av 2019 er NEDC-verdiene juridisk bindende. WLTP, og ekvivalente NEDC, utslipps- og forbruksverdier finnes i de veiledende prislistene på www.bmw.no/prislister. Du finner mer informasjon om WLTP på www.bmw.no/wltp.